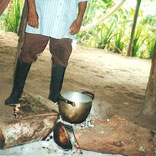 The clothes we pull out of our closets on any given day and the accessories we choose to wear with them have a huge impact on how we feel and how others perceive us. That burgundy pants suit with its subdued red is perfect for communicating assertiveness. That black outfit communicates change and action as well as providing a social mask. The blue shirt underneath reassures while that violet blouse communicates your spiritual, otherworldly side. That white shirt gives you an aura of purity and freshness; that red dress says you're ready to party. The color choices we make influence our mood and our ability to get through the day with confidence and a feeling of being with the flow. And whether you're getting dressed to go to work, to meet your friends or to go out on a date, color will play a part in how people respond to you.
The color choices we make usually are instinctive. Have you ever wondered why, on some days when you reach into your closet, you are excited about wearing that blue shirt, while on other days, that same blue shirt repels you? That's our spleen (orange) chakra at work connecting us to our emotions and intuition. Each of us has an innate knowledge of what color frequency we need on any given day. Just as we may crave orange juice when our body needs vitamin C, we are drawn to certain colors when our body needs a boost. We get that boost from color.
Be wary of the shopping pitfall. Sometimes, when our body craves colors and we aren't conscious of how to feed ourselves, we go out, as one friend I know did, and buy ten yellow items that are worn for a week and then sit in the back of the closet for years. The easier and less expensive way to feed yourself that color that you just have to have is to bring the color in through, perhaps, one new item and socks or underwear. Then give yourself a color shower and get some chakra underwear.