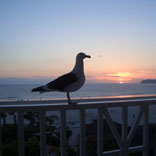 I developed this home-grown color diagnostic in 1997. For eight years I (then the Tina of Tony&Tina Vibrational Remedies, a cosmetics company), along with my business partner Tony, traveled around the world doing colorcards with many people from many different cultures and the accuracy is stunning. (As a side note, it was very inspirational to be in a different culture or socioeconomic area to see how beautifully obvious it is that we are all dealing with the same issues and are much more alike than not. We are all connected.) You can create your own cards or use the cards in the back of the Tony&Tina Color Energy book. Use these cards by yourself or with a friend. They can be instrumental in connecting you to your current state of being and identifying where you need to focus your attention so happiness and balance may enter your life. Trust what your body tells you. Once you have your cards, you're ready to begin.
Make your own by cutting cards out of paper in the chakra colors or use index cards and paint them with acrylic paint.
Whether you do a color reading for yourself or a friend, you will be amazed at the results. What might seem like a guessing game delivers uncanny feedback about your current state of mind. I've discovered that people with the same issues or concerns pick the same colors with remarkable consistency. Even if you feel as if you have made an arbitrary choice, trust that your internal wisdom has lead you to the right card. Trust that your body knows what it needs, just as it craves orange juice when you need Vitamin C. Sometimes you will be drawn to a color that relates to a difficult issue, but know that your consciousness wouldn't have led you there unless you were ready to deal with it.
As you think about the significance of your color card choices, consider both deep-seated concerns as well as the more transitory issues. For instance, if you have a major unresolved life issue such as the need to really forgive someone, you would be drawn to green. But if you had a tense day and needed to relax you would also need green. Or if you regret the way you treated a co-worker all day; this would also prompt you to pick green. In assessing your color needs, play with your situation until you arrive at conclusions that feel right. Think of it as a dream that points to a deeper message from your psyche. If you're really stumped by what the colorcards might be telling you, check them for several days in a row to see if you are consistently drawn to one color. If that's the case, you are very likely ready to work on the issues associated with that color and corresponding chakra.