CristinasEnergyCenter is a lifestyle and a life journey. It is more than just getting healthier, it's about holding that health and that energy as you go through each day. Ridding yourself of toxins and allowing emotional release will create balance and harmony inside your body's energy system. You will not only look and feel barter but you also will be living in love, happiness and laughter. I've dedicated my life to finding more health and happiness for myself and others. I believe that it's only through this personal process that can we achieve positive planetary growth.
My intentions are to share information that can be quickly and easily incorporated into your busy lifestyle so you will see and feel results as soon as possible. You will positively affect your mood, the vibe of your day and the course of your life, and through your own transformation you will help to bring healing to yourself and the planet. A quick fix every day is all the consistency you need for long-term transformation. Enjoy the journey.

Cristina's Energy Center is not meant to diagnose, treat or cure any illness. Always consult a doctor before starting any new health regime and always contact your doctor if you have any existing medical conditions.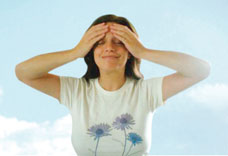 Author of Tony&Tina's Color Energy, How Color can Transform Your Life, Cristina is a Reiki Master and a Certified Eden Energy Medicine Practitioner. Current projects include founding Cristina's Energy Center and teaching energy medicine. She continues to write as well as advise, practice energy medicine and is lovingly dedicated to helping herself and others achieve health and happiness. Cristina is also a co-founder of InnerResources magazine and holds an advisory chair on the board.

'Formerly the "Tina" of Tony&Tina's cosmetics, and one of its co-founders, Cristina served as creative president from 1997-2005, which gave her the invaluable business experience of building a niche company into a global corporate player. It also allowed Cristina to study, practice and teach colortherapy and the power of positive thought throughout the world, helping her to form her unique worldview about wellness and the common threads that connect us all.

Born and raised in New York City, Cristina graduated from the University of North Carolina at Greensboro with a BA in Communication. Shortly after graduation, Cristina spent the next four years at Bloomingdales, as floor manager for the Giorgio Armani Boutique and then as assistant buyer for Cul de Sac handbags (luxury handbags).

In-between here and there Cristina enjoyed bartending and creating art in downtown New York City.

Notable mentions: Shamanistic studies include expeditions to the Ecuador rainforest to learn from indigenous tribes. Tibetan study and initiations with Garchen Rimpoche and Kamtral Rimpoche; Workshops with Shakti Gawain, Ram Dass and Carolyn Myss; Donna Eden, David Feinstein, Jean Houston, Shanti and Richard Duree.

She has been a workshop leader on the power of color and thought at the Learning Annex, HBA, MTV, NYU, Bodhi Tree Bookstore, Barnes&Noble and at many Tony&Tina-related events around the globe.

Disclaimer:
CEC is meant as an educational and entertainment site. No statements have been evaluated by the FDA or any other organization. Always consult your doctor before use of any new product and if you have a reaction to any of the