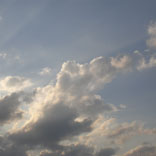 Of course, if you want to do any of these for longer than 7 minutes, go for it, but I think keeping it short and easy will ensure that you actually do it every day. And remember that it is very important to breathe deeply throughout the stretch.
1. General loosening up. Bring hands above your head with an inhale and on the exhale bend at your waist, allowing your body to hang and your hands to dangle at your toes. You can twist yourself around, do some body full shakes, some figure-8s... just get your body moving and flowing.
2. Basic yoga. Downward dog (hands on floor under the shoulders, feet on the floor, heels slightly off floor and butt high in the air) into chaturanga dandasana (like a push-up position but you stay down so that you're off the floor about six inches and elbows are close to the body and pointed up, back and body straight) into upward dog (lower body on floor and hands flat on floor pushing upper body up, looking to the sky) and into child's pose (kneeling and body draped over knees, hands loosely lying besides body). Do this three times. Hold the downward dog the longest; this not only gives the body a great stretch but it relieves tension in your lower back.
3. Lower back stretch. Lie on your back with one leg bent and then place the other ankle over the bent knee. Interlock your hands behind the bent knee and pull the leg towards your head. You should feel the stretch under your butt. Do both sides a couple of times.
4. Half lotus stretch. Sit in a half-lotus position (like sitting cross-legged but with one ankle over the opposite knee) and bend your body toward the floor as much as you can. You can hang over or stretch your body forward and down. If you're really tight, like I can be, you will feel this everywhere, so just do as much as you can and let your deep breaths help you get deeper into the move. Switch legs and do both sides a couple of times.
5. Upper body release. Stand in a doorway and place a hand on either side of the door and let yourself "fall" forward creating a stretch in your chest and arms. If you can find a doorway that has a slight incline you can incorporate a calf stretch by placing your toes on the higher part of the floor and your heels on the lower part. As you stretch forward with your upper body, you'll create a calf stretch.