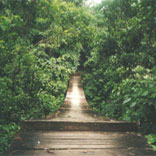 Being stationary is not good for your health, so it's super-important to break up your day at the office or on a long plane ride.
1. Leg stretch. Cross one ankle over the other and let the ankle on the bottom push upward while flexing your feet. Your entire leg will move upward creating a nice stretch. Do both sides a couple of times.
2. Upper body stretch. Hug yourself. This is a wonderful thing to do anytime, but in a constrained space it stretches the back and neck. As you hug yourself move your shoulders forward and let your neck push itself downward. Hold this position for as long as you can, and don't forget to breathe.
3. Shoulder stretch. Bend your arms at the elbows holding them in front of you. Cross one arm over the other, as if placing one elbow on top of the other, and try to place the palms together. Hold for a second and then increase the stretch by slightly lifting upward and hold again. The longer you hold the deeper the stretch. You can gently let your head move from side to side and upward and down. Do both sides. This is really fantastic for a tension-filled back.