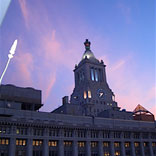 The Color Shower is extremely effective in balancing your chakras. For instance, if you're feeling anxious, a blue color shower will help you calm down.

1. Decide which color you need. (see finding out what you need)
2. Prepare yourself with a few minutes of deep breathing.
3. Picture the most perfect version of your color. See it in your mind's eye showering from the universe down into the crown of your head, down through your body and out through your feet.
4. The color energy is smart energy and will go where it is needed encouraging any blocks or negativity to drain away as unwanted emotion. It feels refreshing.

The breathing should take about fifteen seconds and the visualization about a minute. Longer is always better but a three second experience is ok, too, if you are in a situation that calls for a quick burst of energy.